High Energy X-Ray LIMINACS
PMB Alcen:
Located near Aix-en-Provence, in France, PMB Alcen is a 130 employee SME. With a strong expertise in brazing, the company designs and manufactures complex mechanical assemblies and components (ceramic-metal, radio-frequency….), linear particle accelerators and cyclotrons. PMB is part of the industrial group ALCEN working in the fields of Defence & Security, Energy, Medical & Healthcare, Aeronautics & Space and large scientific instruments.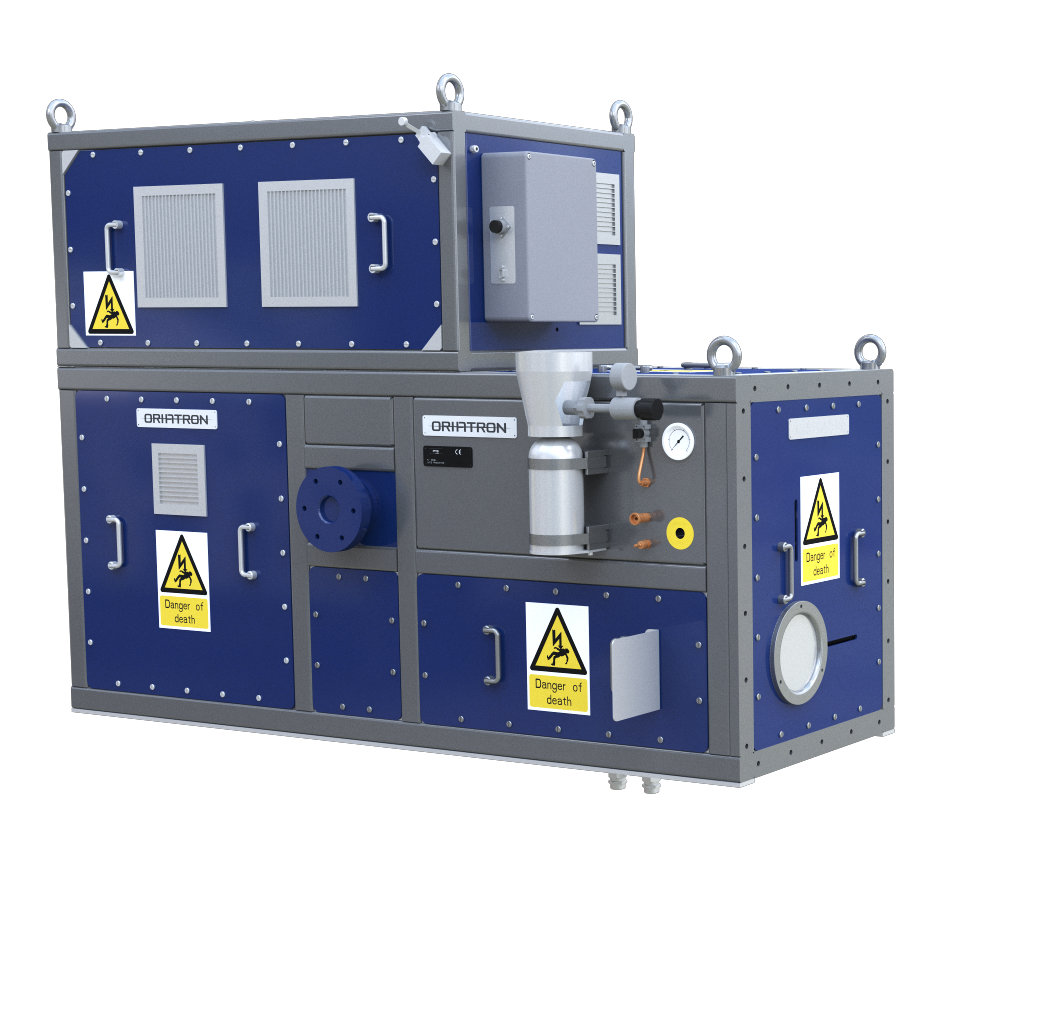 Features include:
Integration of Digital Flat Panel (DDA) – Shielding and fixture bracketry.
LINAC, object and DDA manipulators.
Software suite – Monitoring, 3D reconstruction and volume visualization.
Applications for LINAC's include:
Aerospace (space flight components, aircraft structure, solid rocket fuel tanks).
Defence (missiles, turbine blade, casting inspection).
Research
Industry (casting inspection, high-value metal detection).
Technical Details:
Model
Oriatron 3X
Oriatron 4X
Oriatron 6X
Oriatron 7X
Oriatron 9X
Beam Energy (MeV)
3
4
6
6.9
9
Dose rate (maximum at NFSS) (rad/min)

300
400
800
1200
3000
Nominal Focal Spot Size (NFSS) (mm)

1.7
1.7
1.7
1.7
2.0
Minimum Focal Spot Size (mm)

0.7
0.7
0.7
0.7
N/A
Flattener

Yes
Yes
Yes
Yes
Yes
Beam Stability (rise time?) (s)

<5
<5
<5
<5
<5
Image quality (per ASTM E94)

OK
OK
OK
OK
OK
Beam symmetry < +/- 5%

Yes
Yes
Yes
Yes
Yes
Pulse Repetition Rate (Hz)

5 to 250
5 to 250
5 to 250
5 to 250
5 to 250
Primary Collimator Angle

32º Max – on customer request
32º Max – on customer request
32º Max – on customer request
32º Max – on customer request
32º Max – on customer request
X-Y Collimator (4 independent jaws)

Feasible – Other models available – Motorized

HVL Steel (7.8 x 103 kg/m3

22mm
25mm
28mm
29mm
30mm
Equivalent steel thickness

220mm
250mm
280mm
310mm
380mm
Reduced Focal Spot:
As the PMB LINAC can be manufactured with a reduced focal spot down to 0.7mm, depending on the measurement method, this means the combination of LINAC and imaging system can produce greater image resolution, making it easier for the operator to detect even the smallest defects. As the reduced focal spot allows the object to be closer to the source, by the inverse square law, a higher dose rate can be achieved.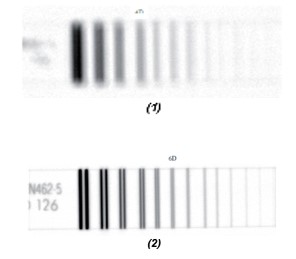 Nominal focal spot (1) and reduced focal spot (2) measurements with IQI Duplex (EN 462-5) and a magnification factor x3.
Please do not hesitate to contact Euroteck Systems if you'd prefer to discuss your LINAC requirement.