Digital Radiography

Euroteck are the sole UK and Ireland distributors of Dürr NDT Digital Radiography equipment.
What is Digital Radiography, and how does it work?
Digital Radiography or DR is simply another form of X-Ray imaging. Digital Radiography systems use Flat Panel Detectors – FPD's. These FPD's take the place of conventional X-Ray film. This gives advantages over X-ray film as the image is immediately available for preview, and as FPD's have a wider dynamic range, they are more forgiving for over or under exposure, and less radiation can be used to produce an image of similar contrast to that achieved using conventional film radiography.
Flat Panel Detectors:
FPDs are further subdivided in two main categories:
1. Indirect FPDs. Amorphous silicon (a-Si) is the most common material of commercial FPDs. Combining a-Si detectors with a scintillator in the detector's outer layer, which is made from Caesium Iodide (CsI) or Gadolinium Oxysulphide (Gd2O2S, "Gadox"), converts X-rays to light. Because of this conversion the a-Si detector is considered an indirect imaging device. The light is channeled through the a-Si photodiode layer where it is converted to a digital output signal. The digital signal is then read out by thin film transistors (TFTs). The image data file is sent to a computer for display.
2. Direct FPDs. Amorphous selenium (a-Se) FPDs are known as "direct" detectors because X-ray photons are converted directly into charge. The outer layer of the flat panel in this design is typically a high-voltage bias electrode. X-ray photons create electron-hole pairs in a-Se, and the transit of these electrons and holes depends on the potential of the bias voltage charge. As the holes are replaced with electrons, the resultant charge pattern in the selenium layer is read out by a TFT array.
Dürr NDT – DRP 2020 NDT Flat Panel Detector
Available as either 14bit or 16bit
Active area 200 x 200mm
Gadox, Industrial Grade
Radiation-hardened for harsh environments
Real time imaging
1 Million pixels / 1024 x 1024 pixels
200 μm pixel pitch
Up to 65,536 grey levels with 16bit
X-ray energies from 20 kV – 15 MeV*
Selectable gain settings
Gigabit Ethernet interface
RoHS-compliant
Up to 25 fps, conditional to other parameters
Weight 3.7 kg
Dimensions (HxWxD) 29.5 x 36 x 2.2 cm
* shielding required ≥ 160 kV
Dürr NDT – DRP 4040 NDT Flat Panel Detector
Available as either 14bit or 16bit
Active area 400 x 400mm
Gadox, Industrial Grade
Radiation-hardened for harsh environments
Real time imaging
4 Million pixels / 2048 x 2048 pixels
200 μm pixel pitch
Up to 65,536 grey levels with 16bit
X-ray energies from 20 kV – 15 MeV*
Selectable gain settings
Gigabit Ethernet interface
RoHS-compliant
1 frame per second
Weight 8.8 kg
Dimensions (HxWxD) 50 x 56 x 2.2 cm
* shielding required ≥ 160 kV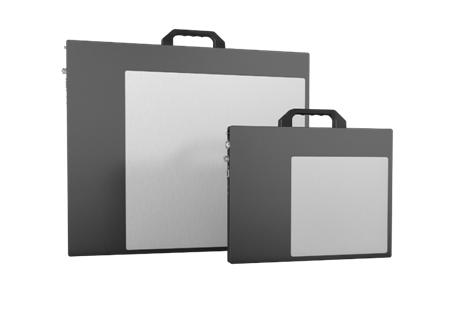 Shown left to right DRP 4040 and DRP 2020 Panels
Coming Soon………
Mobile Wireless Flat Panel Radiography