X-Ray Screening Scanners
Euroteck Systems in co-operation with VOTI Detection™ are able to offer a range of X-ray screening solutions.
Established in 2008, VOTI Detection™ is a Canadian technology company that has specialized in the development and modernization of the latest generation of conventional X-ray screening platforms and detection software.
VOTI's technology produces remarkably sharp and more revealing X-ray images that are competitively superior while delivering enhanced threat detection capabilities and an improved user experience. Since its inception, VOTI has installed scanners in more than 50 countries and has consulted heavily with government agencies and security specialists worldwide to develop feature-rich and easy-to-use scanners that meet the sophisticated needs of modern security screening operations.
All VOTI products are rigorously tested before leaving the factory and again after installation. All scanners meet local national standards, those related to X-ray exposure rate from radiation leakage. For UK installed systems, all VOTI scanners comply with the Ionising Radiations Regulations and do not exceed 1µSv/h measured at 10cm from the scanner surface.
Scanners are manufactured to the tunnel and conveyor dimensions for each scanner.
The table below gives the basic dimensions.
| Model No. | Tunnel Width | Tunnel Height | Conveyor Length |
| --- | --- | --- | --- |
| XR3D-50S | 550mm | 350mm | 1477mm |
| XR3D-50 | 550mm | 350mm | 2084mm |
| XR3D-60S | 615mm | 425mm | 1717mm |
| XR3D-60 | 615mm | 425mm | 2217mm |
| XR3D-6D | 615mm | 425mm | 2385mm |
| XR3D-7 | 750mm | 550mm | 2635mm |
| XR3D-7D | 750mm | 550mm | 2635mm |
| XR3D-100 | 1014mm | 1062mm | 3027mm |
| XR3D-100D | 1014mm | 1062mm | 3674mm |
| XR3D-100B | 1014mm | 1062mm | 3604mm |
| XR3D-100BD | 1014mm | 1062mm | 3604mm |
| XR3D-15 | 1500mm | 1650mm | 5273mm |
| XR3D-15D | 1500mm | 1650mm | 6527mm |
* xD = Dual Source system
VOTI's innovative design and detection capabilities are made possible through our state-of-the-art operating system BioSans™
With a variety of tunnel openings, the XR3D series are the ideal solution for a variety of usages such as critical infrastructures, transportation, and border operations where screening of parcels, bags and mail is required.
Core Operating System
A Better OS for X-Ray Scanning
Through BioSans™ OS, we can add additional applications and modules to extend the functionality and value of your equipment. Our OS provides the core software needed to facilitate the 3D Perspective™ Technology that makes our systems consistently outperform all others.
From detecting precious metals, to threat image projection, all our proprietary apps run through BioSans™ OS.
Responsive to Rapid-Changing Security Needs
Our software platform allows us to easily develop and deploy innovative upgrades and new applications as needed.
BioSans™ OS is key to our ability to provide upstream improvements that are easily transferred to our clients, positively impacting the industries in which they operate. Our software is our greatest value-add and provides a host of scaling opportunities for future innovations.
Core Features
BioSans™ OS has been designed to include the following core features:
VotiALERT™: Provides threat assessment management with automatic threat alert and material classification. VotiALERT™ also includes Inspection & Tagging Recommended (ITR), Area of Interest Highlighting (AIH), raw image storage, atomic number sequencing to configure identification of materials as density alerts to notify operators when a material cannot be scanned through.
VotiRAM™: The Risk Assessment Management (RAM) module has the customizable operation and detection parameters with 5 security levels. When notified of elevated risk status, the systems automatically scan more slowly and provide more resources to operators as they have their guard up for identifying and mitigating risks.
VotiPMD™: Auto-detects precious metals such as gold, platinum, silver and copper. This protects jewellers, retailers, and manufacturers from employee theft etc. VOTI systems can be configured to pick up customized materials as well.
VotiTIP™: The Threat Image Projection (TIP) app houses extensive libraries of real threat images to inject into real scans. This tests the operators' readiness, responsiveness and keeps them alert. Response times are recorded, and performance can be assessed based on the operators' false positive reports.
Image Enhancement: Image Enhancement uses zoom, pan, flip, and contrast to adjust the scanned image.
Continuous Screening: Continuous Screening provides customizable modes.
Manual Search Required (MSR): Manual Search Required (MSR) to tag items and save archived files to a specific folder. The scanned item is directed to an optional search area.
Language Selection: Language Selection allows for the multilingual operator interface to use the system in several languages including English, French, Spanish, and Arabic.
VOTI's scanners employ innovative 3D Perspective™ technology to deliver exceptional threat detection capabilities. Through an advanced intuitive touch screen interface, operators can manipulate and enhance scanned images in a variety of ways to better pinpoint and evaluate potential threats. The overall threat detection process is enhanced by a suite of software guided tools and features, including extended and configurable threat libraries.
3D Perspective™
Enhanced X-Ray Technology – Whether scanning mail and small parcels, or larger baggage, cargo and freight, units are specifically designed to provide clearer and more revealing 3D Perspective™ images unique to VOTI products.
What The Competitors Don't See!
Competitor Technology
The competitor scan indicates NO detectable threats…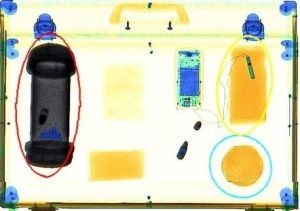 2D scanners are unable to detect all concealed objects due to dangerous blind spots.
Images produced are flat files and cannot be manipulated further in the future.
True 3D scanners are expensive, large, and slow to produce images.
VOTI's 3D Perspective™
…but when we screen the SAME bag with a VOTI scanner, several threats undetected by the competitor system are revealed in the sidewalls.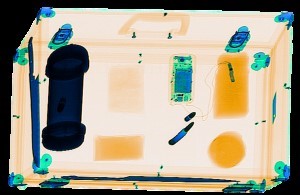 We eliminate blind spots and allow operators to quickly identify threats.
Our image files are saved in their raw format, so you can rescan them and analyse them as though the items were back in the machine.
We provide the benefits of a dual view system at the price of a single view.
With this technology, you can get the peace of mind of multisource scanning without the added cost. We can also accommodate dual or multi-view as needed for regulation.
Additional product highlights include:
3D PerspectiveTM Multi Energy Imaging.
Icon-Driven GUI with LCD Touch Screen.
Threat Alert and Material Classification.
One-touch, Instant View Last Five Bags.
Dynamic Pseudo Density Layering.
Multilingual Operation.
Auto-Archiving.
Network-Ready.
For product-specific datasheets, please download these from our Download Page.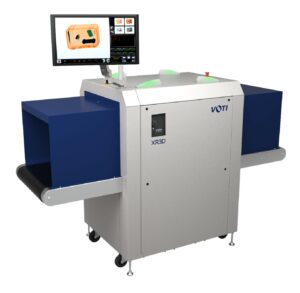 XR3D-60 scanner shown above.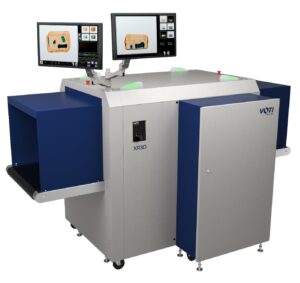 XR3D-7D scanner shown above.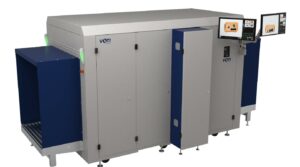 XR3D-100D scanner shown above.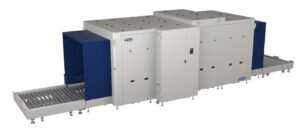 XR3D-15D scanner shown above.
Please do not hesitate to contact Euroteck Systems to discuss your X-ray screening requirements.
For more detailed information on VOTI Detection™ products, please visit: