Ultrasonic Equipment
Euroteck Systems are the official UK and Ireland distributor for Shantou Institute of Ultrasonic Instruments Co. Ltd. (SIUI) based in Shantou, Guangdong, China.
SIUI has the largest manufacturing base of ultrasound instruments in China. Currently SIUI's annual production exceeds 20,000 ultrasonic main units and over 100,000 transducers. All U/T products are manufactured to ISO 9001 and are CE marked.
SyncScan
The third generation of Ultrasonic flaw detector from SIUI, SyncScan incorporates the latest advancements in high performance Phased Array, TOFD, and high-end thickness measurements in one compact unit.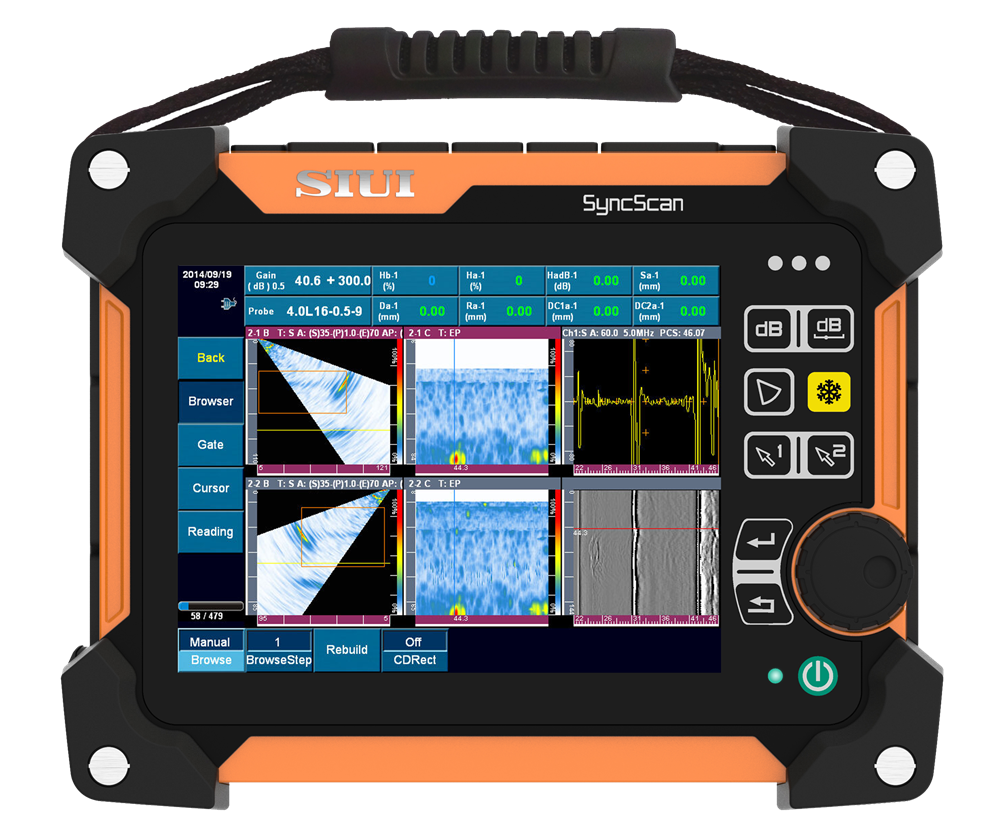 Key Features:
High IP rating: IP65 with rubber shock bumpers on each corner
Lightweight: 3.75kg with battery
Large touch screen: 8.4" (213mm) LCD with resolution 800 x 600 pixels
Upgradeable from conventional UT to Phased Array, TOFD, thickness measurement with optional powerful software functions.
Version 1: upgradeable to 16:128 PAUT + 1-channel TOFD/UT
Version 2: upgradeable to 16:64 PAUT (PR*) + 1-channel TOFD/UT
Version 3: upgradeable to 1/2/4-channel TOFD/UT
*PR -pitch and catch function. Thickness measurement function is available with all options.
SyncScan – Compact and Robust:
The IP65 rated SyncScan has been designed to operate in the harshest industrial NDT environment. The extra large 8.4" touchscreen optimizes the experience for measurement and viewing. SyncScan is so compact (3.75kg and 90mm thick) that it can easily be operated with one hand when working at height.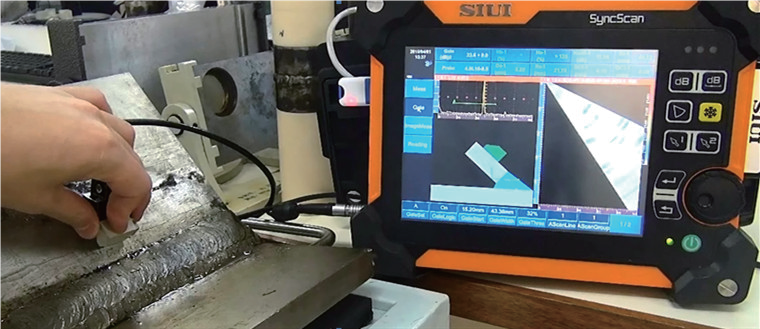 Conventional UT:
Basic functions:
Velocity + Zero calibration.
Angle calibration.
DAC.
AVG (DGS).
Full screen A Scan.
Co-ordinates switch (sound path, depth, horizontal).
Surface compensation (xx+xxdB).
Auto freeze.
Second leg colour.
Auto gain.
Wave compare.
Wave filling.
Peak envelope.
Screenshot.
Optional advanced functions:
API.
TCG.
AWS.
CSC.
B Scan.
Flat Weld Groove (Ray Tracing).
Crack Height Measurement.
Probe Spectrum Analysis.
Cineloop.
Thickness Measurement:
Optional advanced functions to achieve:
Coating thickness.
Echo to Echo.
B Scan.
V PATH.
TDG.
TEMP.
Multi-Layer Measurement.
Phased Array and TOFD:
The SyncScan is a very powerful tool when used in Phased Array/TOFD inspection:
Calibration Wizard:
SyncScan uses a calibration wizard with step-by-step guide for ease of use by NDT Operators and to maximize the inspection speed.
Phased Array Group Functions – One phased array probe can be designated up to six groups for different inspections, such as sector or linear scan. Multi groups of element and different angles can be applied for scanning at the same time, ensuring full weld coverage and increased inspection efficiency.
Two phased array probes can work simultaneously to inspect both sides of the weld increasing inspection speed and efficiency.
BEA Function (Backwall Echo Attenuator) – This function is to help set a gate over an area and adjust the gain fir this area regardless of the global gain. It is very useful for the inspection of castings and forgings allowing independent gain control of the area under the gate with the BEA for backwall echo monitoring.
Flat Weld Groove (Flat Plate) Function – This function is to simulate flat weld plate work piece geometry, including the beam coverage simulation and imaging parameter settings. Using this function, it is easy to analyse and locate flaw signals.
Flat Weld Function – This solution is suitable for flat butt weld and circumferential pipe weld inspection.
Automatically simulate various welds with different groove types to simulate on-site weld shapes.
Professional wizard operation mode facilitates operators final phased array set up.
Assisted positioning (RayTracing) flaw measurement and report generation functions are available.
Angle Weld Function – Suitable for angle welds in oil & gas structures.
Automatically simulate real angle weld shape based on input parameters.
Simulate sound beam coverage in six different probe positions.
With RayTracing activated, the software can auto analyse and judge the workpiece flaw situation, record flaw image, measure and generate the test report.
Pipe Girth Weld Function – Suitable for testing welds of small diameter pipes with OD's ranging from 20.32mm to 114.3mm.
By offering features of V-groove and Y-groove welds, beam coverage simulation, as well as inserted wedge and link assembly guide tables, this function dramatically reduces the inspection time of small-bore diameter pipes.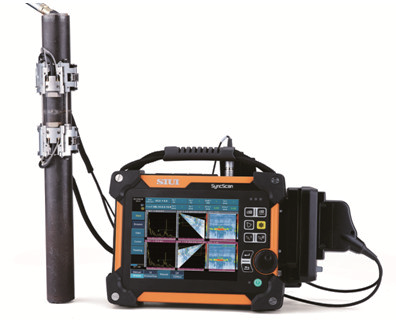 Simultaneous PA and TOFD inspection – simultaneous phased array and TOFD inspection can expand scanning coverage and increase the probability of detection.
Phased Array Probe Element Testing – Conforming to ASTM E2491, this function achieves auto testing of the phased array equipment for its element activity, measuring the activity of all elements and acoustic energy uniformity of the PA probe.
Corrosion Function:
Simple scan plan to work out pipeline corrosion inspection.
Step by step wizard can guide operators to finish setup quickly and improve inspection speed.
Different thicknesses will be displayed in different colours, making it visually simple to determine loss of wall thickness due to corrosion.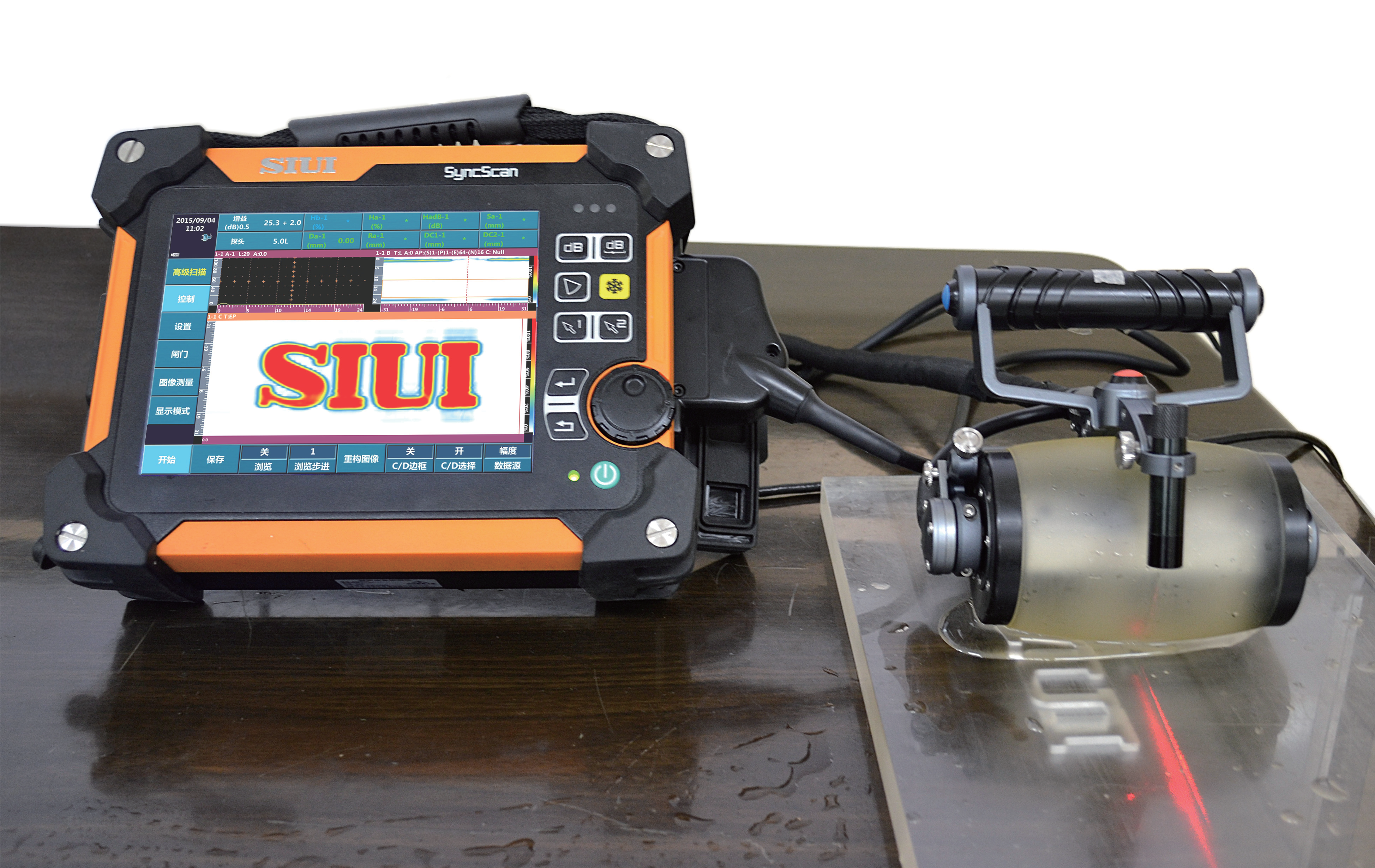 Linear scan image on flat plate engraved with SIUI logo using a wheel probe.
For the full technical specification, please download the SyncScan datasheet from our download webpage.