X-Ray Film Digitizers
X-Ray Film Digitizers:
Euroteck Systems act as a lead generator for Uneekndt. We can offer the Vidar NDTPRO and NDT Gateway software. The Vidar NDTPro is also compatible with Dürr NDT D-Tect X software.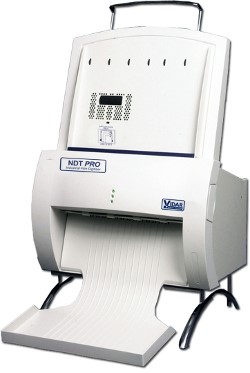 The NDTPRO is the first non-medical film digitizer produced by VIDAR.
It introduces a cost-effective scanner to digitize/scan radiographic films, having been specifically designed to meet the most stringent demands of the NDT market. It addresses the unique needs of aerospace, petrochemical and other industrial testing applications.
The NDTPRO offers the NDT industry a product that not only carries a smaller price tag, but also is much lighter, more portable and offers a smaller footprint.
It can handle films as narrow as 60mm (2.36") wide and up to 1295mm (51") long.
Additionally, it features Vidar's renowned High-Definition CCD (HD-CCD®) solid state technology as well as its unique ADC (Automatic Digitizer Calibration) mechanism. The latter makes certain there is virtually no variation in image quality and ensures excellent greyscale reproduction in every image.
With the optional Multi-strip feeder, the scanning of multiple weld films (<100mm wide) is made simple and increases productivity! The Multi-strip feeder allows scanning of up to five film strips per pass. Scanning can also be accomplished even if the scan load includes films of different length. The number of slots and widths in the Multi-strip feeder is customizable and prices are available on request through Euroteck Systems.
Key Features of the NDTPRO:
HD-CCD solid-state technology.
Removable/field replaceable LED long-life light source.
Optical Density – 0.5D to 4.5D
11-line pairs per mm with geometric accuracy better than 1% or two pixels, whichever is greater, in both axes.
Capable of digitizing up to 25 films of various sizes in batch mode, allowing more productivity and greater efficiency.
Requires no biannual calibration, cleaning or maintenance, thus making substantial savings year on year.
Technical Data:
Vidar NDTPRO
Optical Density Range
0.5 to 4.0 with standard scan mode, based on ISO 14096

0.5 to 4.5 with DS scan mode.

Bit Depth
8-, 12- and 16-bit greyscale output.
Standards
Meets ISO 14096 Class DS and ASME Section V.
MTBF
≥ 50,000 hours.
Film sizes
Width: 60mm to 350mm (2.36 to 14").

Length: 200mm to 1295mm (8 to 51").

Speciality film sizes quoted in single sheet mode.

Auto feed supports 24 x 30cm (8 x 10") up to 35 x 43cm (14 x 17").

Auto Film Feeder
Standard 25 film capacity (mixed size, no pre-sorting required).

"Light Box" loading: head-up, normal reading, left justified.

Translation Tables
Linear OD.
Geometric Accuracy
Better than 1% or 2 pixels, whichever is the greater in both axes.
Scan Rate
92 lines per second.
Hardware Interface
USB 2.0
Power Requirements
85 – 264 VAC / 47-63 Hz / Power ≤ 100W.
Operating Environment
10 to 35°c (50 to 95°F), 20 to 85% RH.
Storage Environment
-18 to 60°c (0 to 140°F), 20 to 85% RH.
Illuminator
LED Illuminator.
Detector
Solid state, next generation HD CCD (HD-CCD®)
Dimensions (W x D x H)
With Feeder & Exit Tray: 48 x 58 x 83cm.

Without Feeder & Exit Tray: 48 x 38 x 32cm.

Shipping: 61 x 74 x 61cm.

Weight
21kg (45lbs); shipping weight: 27kg (60lbs)